Exclusive HollywoodPQ interview - Tyler Shaw, the hopeless romantic
Exclusive HollywoodPQ interview: Tyler Shaw, the hopeless romantic.
Tyler Shaw has made our hearts beat for a loooong time now with his hits.
We followed him backstage where he talked about his upcoming album Yesterday (but you'll have to stay tuned if you want to know EVERY detail about it, because we won't disclose them for a few weeks or so!). He also talked about his irrational love for wolves. Yep.
And if you were wondering...YES. Tyler is HANDSOME. Incredibly handsome. But really, what makes his charm is that he's super polite (he escorted us to the exit), his modesty and his good sense of humor.
How has been your day so far?
We just drove in yesterday from Toronto. Hit some of the Montreal traffic! Every time I come here, you guys never disappoint me. I've been here three times; it's my fourth, and every single time, the crowd here just trumps it, more than everywhere else. I love it.
What do you love about Montreal?
I was at Osheaga last week. I love the city, it has a great vibe. You know, every city has a certain vibe. Vancouver is gloomy but super hippie, artsy, business-based. Montreal has a cool factor about it, which is very Montreal!
Have you seen the fans waiting outside for you? There are A LOT.
I've just finished sound-check, and that was crazy! I've no comments! It's incredible how supportive they are.
You've never ever taken any lessons, you've learned all by yourself. How do you face those challenges?
I'm grateful, I'm fortunate that I kind of discovered the talent on my own. I,m not the best I can be. I'm learning every day. 10 years from now, I can be 10 times better than today. I'm always feel like an individual can constantly learn and get better. I'm sure there is a lot of artists out there that haven't take lessons, just like me.
You're going to open for Kelly Clarkson this fall. How do you feel about that?
It hasn't even hit me. The first show is in Ottawa, on October 1st. I have met her, two weeks ago in Toronto. Nicest. Lady. Ever. She's such a sweetheart, she's amazing.
Do you have anything funny to tell us about her?!
I thanked her for the opportunity. She told me a funny story. She said that she hd done research on me because her manager told her Tyler is going to open for you. She was like who??? She goes on the Internet and googles me. She was like ''ok, he's a good singer!''. She told me this and I was like ''Kelly Clarkson telling me I'm a good singer'' when she's a phenomenal singer. It was insane, crazy feeling! There are stepping stones in my career, and this is definitely a stepping stone, an important one.
You've wrote a song for Marc Dupré and one of your song is sang half in French, half in English. Is it in your plans to work with French-Canadians?
I wrote a song for Marc Dupré. I wrote that in English, in Toronto. That got translated here. I speak «un peu» français. I'm going to try to use as much as I can tonight on stage. I have to speak slowly. I love the language. I took French immersion in high school, I just didn't do very well…! I love the way it sounds, it's such a romantic language. I would love to (write for French-speaking artists). I love to write music so if anyone comes out to me and say would you write a song for this artists, I'd say yes.
We have a creepy/weird question for you. Back in 2013, we wrote about you and we said that you looked like one of the wolves in Twilight. Then, we've seen that you say the wolf is your spirit animal and that you'd like to own one. What is this thing about wolves?!
It's my favorite animal, like EVER. Since I was a little kid, I watched like BBC documentaries and every time there could be like a lion eating a zebra, or a frog…but every time a wolf is on, I'm like *transfixed*. I love wolves, I don't know why, I just LOVE them.
Is it the first time someone mentions this to you?
I've been getting that for many years. You have to understand that they all look like me, I don't look like them!!!
What are your tour essentials?
Stuffed animals. A pack of batteries for guitars, pedals, and things…!
Which 3 artists would headline your dream festival?
Justin Timberlake. That's it. I don't want three!
We'll take a wild guess. To the question ''with which artist would you like to collaborate'', is the answer Justin Timberlake?
YES! We are label mates, so, that's the first step! There is a connection there! So hopefully, in the future, why not.
Have you ever had any cool social media interaction with another celebrity?
Not yet. I don't tweet enough to celebrities; maybe I should start and see if I get anything back. Interactions with fans though, all the time. I think it's super important to stay connected with your fans, so, yes, every day. (Here is a selfie Tyler took for our Instagram page!)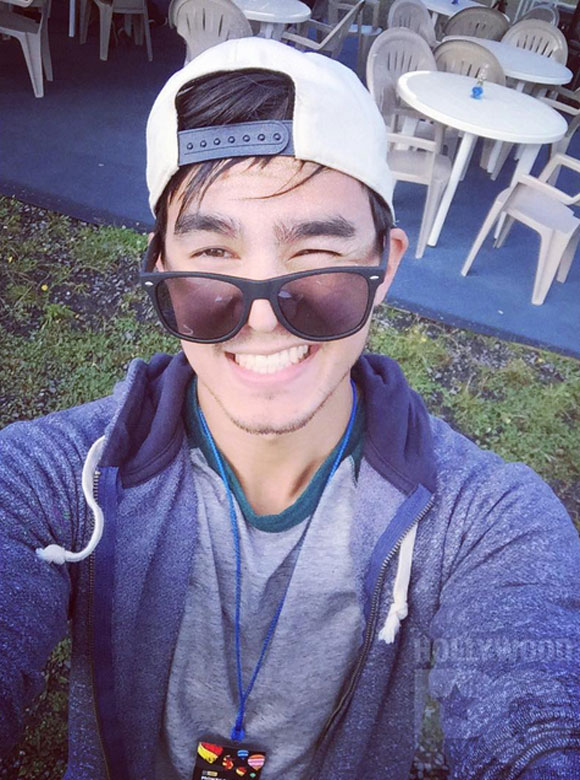 What's the craziest thing a fan has done for you?
Someone once threw a water bottle at me. With love! I picked it up and she was like ''omg tyleeeeer''. And one time I was doing signings after a show, and one comes up, I had my marker up and she ripped her t-shirt. That was interesting!
A huge thank you to Tyler Shaw. You can follow him on Twitter, Instagram, Facebook and find his music here.
À lire aussi:
C'est la folie! Backstage avec Shawn Mendes à St-Jean – Entrevue exclusive HollywoodPQ
Top 5 – Les incontournables de l'International des Montgolfières de Saint-Jean-Sur-Richelieu 2015
Rencontre avec Charlie Puth le jeune prodige que toutes les vedettes s'arrachent – Entrevue exclusive HollywoodPQ
On est IN LOVE avec la pop sucrée de Meghan Trainor à l'International de montgolfières de St-Jean
Crédit photo: Karine Paradis