Exclusive HollywoodPQ interview: Shawn Mendes, the ultimate crowd favorite
Exclusive HollywoodPQ interview: Shawn Mendes, the ultimate crowd favorite.
Screams, hysteria, t-shirts with his face everywhere.
No doubt about this: Shawn Mendes was firmly awaited in St-Jean sur Richelieu for the Festival international de montgolfières.
Ladies and gentlemen, this is the first impression we had of Shawn: he's as cute as it gets, super tall (towering at 6f2) and super, super nice. He's definitely not overwhelmed by all this (feminine) attention.
Here is what he had to tell us about his career, his love songs and some secrets projects!
HollywoodPQ: Shawn, you arrived in Montreal yesterday. Did you have anytime to enjoy the city?
Shawn Mendes: Not very much. Actually, I went to this very good Portuguese restaurant this afternoon. I'm Portuguese, so you don't find those very much where I'm from. It was a good place.
Nobody saw you?
We can walk the streets sometimes!
The crowd is phenomenal tonight. Are you surprised by the amount of people here for you?
I was just saying that like 20 minutes ago, when did this happen? When this many people know who I was?! I love it, it's pretty cool. The fact that that many people gravitate towards my music, is really cool.
You turned 17 a few days ago. Do people talk to you a lot about your age?
Cause I'm young, obviously, a lot of people say ''wow is music is so mature''. My age gets brought up a lot.
I think no one should be judge on their age. An age is just a number. I don't feel like I'm seventeen! People start judging you on how young you are immediately before they even get to know you.
Your album is called Handwritten. Do you still use paper and pen?
I do lots of computer, but if I have the chance I like to write it down. It makes it a little more important to have it on paper.
You started on Vine and YouTube and you are super popular on Twitter and Instagram. How important is it for you to be on social media?
Social media is everything. I wouldn't have that, without social media. My whole career revolves around that for sure. Just being yourself, keeping your fans updated, stay active and keeping in touch with them. I am being myself, it's how I'd do it naturally.
Because of you success, we often forget that you're still in school!
I'm doing an online type of thing. I'm still doing it. I'm finishing high school. I'd love to go to university one day, if I get a chance. I'd like to study guitar.
You sing a lot of love songs. Are they all about personal experiences?
No. Must of them are just made up. I'm still young, obviously. All songs are written out of emotions, and love is one of the strongest emotions. So I find it the easiest to imagine and pull and stretch and create a story out of it.
Oh, so you don't really have stitches?!
Actually, I do have stitches, but not from love!
You're opening for Taylor Swift, how is this going?
Amazing, incredible! She's the nicest person you ever meet. She's the coolest person ever, honestly. She's Taylor Swift, the most popular celebrity in the world, and you would never know it, she's so humble, and so down to earth.
What's coming up next for you?
Tons of things! You gotta stay updated on Twitter!
What's your tour essential?
Cereals! I need to have cereals! The oatmeal crisps!
Who would headline your dream festival?
Ed Sheeran, Taylor Swift, Bruno Mars.
With whom would you like to collaborate?
I'd love to collaborate with Bruno Mars! (We told him that Charlie Puth said the same thing, and that they should do a trio!)
Did you ever have any cool social media interaction with another celebrity?
Yah! Lot's of them! The Rock, I've tweeted at him «You Rock men», as a joke. And he tweeted back and said you rock!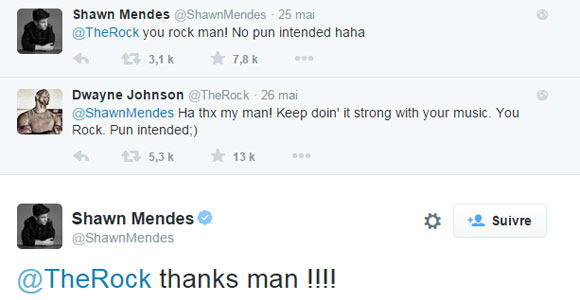 Have you ever been on an air balloon?
I was hoping to get a ride in an air balloon, but there won't be any tonight because of the temperature. Next time!
A big thank you to the sweet Shawn Mendes for his time. Follow him on Twitter, Facebook, Instagram and iTunes.
À lire aussi:
Top 5 – Les incontournables de l'International des Montgolfières de Saint-Jean-Sur-Richelieu 2015
Rencontre avec Charlie Puth le jeune prodige que toutes les vedettes s'arrachent – Entrevue exclusive HollywoodPQ
On est IN LOVE avec la pop sucrée de Meghan Trainor à l'International de montgolfières de St-Jean
Copyright: Karine Paradis